MEDICAL AND LEGAL
MAPA (Multilingual Anonymization for Public Administrations)
Europe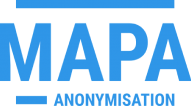 Overview
MAPA is an integration project aimed at introducing natural language processing (NLP) tools to the medical and legal fields, and developing a set of tools for efficient and reliable anonymization in the same domains.
Task
The goal of the MAPA project was to develop a set of tools to effectively anonymize texts belonging to the medical and legal domains with a high level of accuracy.
Pangeanic's solution
A fully deployable multilingual anonymization kit was developed based on Named Entity Recognition applicable to all EU languages.
40% savings

on anonymization costs

The end result was a set of multilingual, open-source, ready-to-use anonymization tools capable of detecting personal data (names, addresses, emails, credit card and bank account numbers, etc.) as defined by implementation cases in different member states.
We like Pangeanic's work ethos and professionalism. They actively listen to their clients - and that helps them be the best every day to provide tailored language solutions. From my point of view, that's one of their greatest qualities
Marketing Director - Onahotels
Pangeanic makes the translation process easy... And they provide a friendly, fast translation service. Creating a database for all our translations was particularly useful so we could recycle translations and re-use content in other occasions and/or similar jobs.
The quality is excellent as usual. The source has been changed many times during the translation. Pangeanic was quick to respond to the changes and it was helpful.