Save time and money and reinforce the
security of your company with Masker
Masker, Pangeanic's Data Masking tool, uses AI to automatically identify personally identifiable information (PII) and replace sensitive data using different types of anonymization. Adjust the level of sensitivity and choose specific tags to customize how your content is anonymized.
ID tags replace data with a generic data tag (e.g., ORG1, NAME2, ADDRESS3)

Substitution replaces data with a temporary identifier. (e.g., ACME, JOE, 123 Somewhere St.)

Gaps replace the data with blank spaces.

Redaction replaces data with a solid black line.
These Data Masking processes are designed to mitigate the ability to trace data or electronic trails that would lead to data misuse or reveal personal details.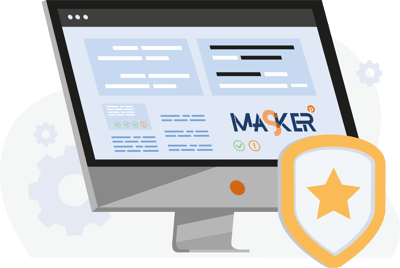 Why use our Data Masking Tool?
COMPLY WITH REGULATIONS TO PROTECT PERSONAL INFORMATION
Compliance reduces fines and the risk of negatively impacting your consumer's trust.
STORE DATA MORE SECURELY
Data Masking adds an additional level of security for information since the masked data has no practical value.
SHARE PERSONAL INFORMATION SAFELY
Share de-identified data internally or with third parties to reduce risk and streamline business processes, thereby increasing productivity.
INCREASE EFFICIENCY TO SAVE COST AND EFFORT
Automate the identification and replacement of PII in the workflow. Share, utilize and monetize data more easily by using a teachable, configurable AI system for Data Masking.
The benefits of our Data Masking Tool
Maintain privacy protocols for sharing, storing or monetizing data.
Comply with privacy standards, such as CCPA/CPRA, HIPAA, GDPR, LGPD or APPI.
Optimize content and data flow across workstreams.
Leverage standard solutions built for EU public administrations across languages.
AI engines can be trained, optimized and cloned for specific industries.
Multilingual capabilities let you easily mask, translate and train through a single platform.
Advanced features enable configurability and aggressive optimization training.
MANY TYPES OF DATA MASKING
ID Tags / Substitution / Gaps / Redaction / Hashing / Image Obfuscation
FLEXIBLE DEPLOYMENT
Secure cloud-based (free, trial and subscription). API – platform agnostic or on-premises.
PERMANENT ANONYMIZATION OR PSEUDONYMIZATION (REVERSIBLE DATA MASKING)
Irreversibly strip content of personal data or keep the optional ability to repersonalize when required.
NATIVELY MULTILINGUAL
Available in 25 languages. Machine translation can be integrated into the same platform.
ADVANCED FEATURES TO TRAIN, CONFIGURE AND CLONE YOUR AI FOR SPECIFIC INDUSTRIES
Use adjustable levels of aggressiveness to train and optimize for specific languages, unique vocabulary or professional specialization. Copies can be managed for target industries, regions, languages, etc.
USE WITH POPULAR FORMATS
Available for most structured and unstructured data: text files, email, social media, business applications, etc.
Legal services

Government and service industries that collect personal data

E-commerce companies
Financial services and insurance companies

Healthcare providers and life sciences

Pharmaceutical and medical device companies
Data Masking examples
Sharing data with third parties: eHospitals may be required to report up-to-date statistics to government organizations that may contain personal data.
Banking information: Information may include banking activity, account balances, account numbers, social security numbers and addresses.
Legal documents: Lawyers are data controllers as are other professional advisers like accountants and consultants. Many interactions with legal documents include personal data whether it's collected, processed, stored, altered or shared. Given the wide scope of personal data and processing activities of legal documents, it's important to mask data at its source.
Public Administrations: Most Public Administrations have a mandate for open data and transparency. This may conflict with privacy laws as personal details can be revealed. Pseudonymization solves the transparency problem by making data available but with personally identifiable data substituted.
Health insurance information: Insurance companies receive and store information from healthcare providers that may include personal information, medical conditions, insurance claims and addresses.
Partnering with patient data: Medical centers or hospitals may want to share and aggregate patient data for help in a study to cure a disease or develop a pharmaceutical product.
Medical records: Medical records that include patient data sometimes need to be shared across an organization or between organizations (hospitals, clinics, insurance firms, etc.)
Clinical results: Patients' personal information and medical records may be part of a clinical study which may be shared for aggregation or analysis purposes within health and medical companies.